Detalji partnera Pensiunea Restaurant Görgö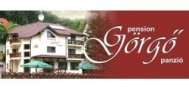 Spiret S.r.l.
Description
Pensiunea Görgő a fost deschisă pentru oamenii receptivi la frumuseţe, pentru cei care preţuiesc minunăţiile naturii, căutând tihnă şi recreere sufletească. Toate acestea, noi le oferim oaspeţilor noştri aici, la Şugaş Băi, situată la poalele vârfului Görgő-Havad (Gurghiu) şi piscul Szármány.
Vă aşteptăm cu mâncăruri pregătite după bucătăria europeană şi locală, de savoarea cărora se preocupă bucătarul şef. Camerele şi apartamentele oferă confort total şi siguranţă atât pentru cei veniţi cu familia cât şi pentru prietenii acestora. Jacuzzi şi sauna vă ajută să uitaţi de grijile de toate zilele şi veţi fi fermecaţi de aerul de munte îmbibat cu parfumul răşinii de brad.
The Görgő Pension was opened for those people, who are receptive for beauty, who appreciate the beauty of nature, the spiritual refreshment, and who are looking for silence and comfort. We guarantee it for our guests, here, in Sugas Bai, at the foot of the Görgő-Havad peak and the Szármány peak.
We are waiting for you with european, respectively local dishes, prepared by our chef. Our rooms and appartements are very comfortable, they offer safety, either you are coming with your family or with your friends. The jacuzzi and the sauna help to forget the troubles of daily life, the fresh air impregnated with the perfume of the pine resine enchants the visitor.
Modalitati de plata / Payment modes:
Covasna Sf. Sfantu Gheorghe
height=
Kategorie
- Cluburi, Restaurante & Baruri / Clubs, Restaurants & Bars
- Hoteluri & Cazare / Hotels & Accomodation
Website
www.gorgo.ro
Phone numbers
+40740190335
Cashback
- Cazare si Restaurant / Accomodation and Restaurant:5%
Address
Spiret S.r.l. Str. Grigore Balan 52/Floor// 520032 Sfantu Gheorghe Romania
Phone numbers
+40740190335
Stores
916241 - Sfantu Gheorghe: Str. Grigore Balan 52
Prodajni objekat
Offices