Detalji partnera Pensiunea Flowers B & B ***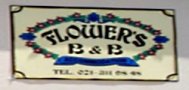 B & B Accomodation S.r.l.
Description
Foarte primitoare, confortabilă şi accesibilă, Pensiunea Flowers B & B de trei stele vă oferă cazare tip hotel, în Bucureşti, şi se găseşte la doar 15 minute de mers pe jos de la Palatul Parlamentului (cea mai mare cladire din Europa) şi la doar 10 minute de centrul vechi al capitalei.
Este situată în centrul Bucureştiului, foarte aproape de principala staţie de metrou (Unirea), aproape de principalele teatre, magazine şi alte atracţii turistice ale capitalei, la doar o scurtă plimbare de pe faimoasa stradă a lui Mircea Eliade - Mantuleasa. În apropiere se găsesc minunate restaurante cu mâncare tradiţională românească sau internaţională.
Pensiunea Flowers oferă cea mai placută şedere în camere confortabile şi frumos decorate, spaţioase şi curate, fiecare fiind dotată cu TV, baie proprie, aer condiţionat, internet wireless şi mic dejun inclus.  
Modalitati de plata / Payment modes:
Bucureşti
Description
Flowers B & B is situated in the heart of Bucharest, just 2 stops away from the Principal Metro Station (Unirea), close to theatres, major tourist attractions & shops. It is a short walk from famous Mircea Eliades Mantuleasa Street. Nearby are excellent restaurants with traditional Romanian and international cuisine.
Super-homley, comfortable and affordable, 15 mins walk from House of Parliament (the largest building of Europe) and only 10 mins walking distance from the old center of the Romanian`s main city.
Flowers B & B is a cozy, family run bed and breakfast, providing friendly accommodation in en-suite rooms. The rooms are pleasant decorated, spacious and clean, each of it with color TV. We also offer English or Continental breakfast.
Kategorie
- Hoteluri & Cazare / Hotels & Accomodation
Website
www.flowersbb.ro
Phone numbers
+40372907609
+40213119848
Cashback
- la cazare / on room rates:2.5%
Address
B & B Accomodation S.r.l. Str. Plantelor Nr. 2/Floor// 23974 Bucuresti Romania
Phone numbers
+40372907609
+40213119848
Stores
Pensiunea Flowers B & B *** - Bucuresti: Str. Plantelor 2 El Vino - Tapas & Wine Bar - Bucuresti: Plantelor 2
Prodajni objekat
Offices