Detalji partnera Hotel Restaurant Ana***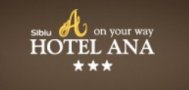 Ana Oil S.r.l.
Description
HOTEL ANA este privit de majoritatea oaspeţilor noştri ca unul din cele mai primitoare si moderne hoteluri din Sibiu.
Vă aşteptăm la intrarea în Sibiu dinspre aeroport, cu 85 de camere de hotel confortabile şi atrăgătoare, cu servicii hoteliere de calitate şi cu experienţa celor 10 ani în care suntem mândri că am perfecţionat cele mai înalte standarde de profesionalism în oferta noastră de cazare, restaurant, organizare de evenimente de firmă, nunţi sau alte evenimente din viaţa personală.
Cea mai apropiată unitate de cazare de Aeroportul International Sibiu -sub 2 minute - şi la doar câteva minute de mers cu maşina de centrul orasului, hotelul de trei stele Ana din Sibiu este unul modern şi elegant, care oferă cu mândrie servicii care depăşesc clasificarea sa.
De asemenea, în imediata apropiere a hotelului se află cunoscuta staţiune balneo-climaterică Ocna Sibiului, faimoasă pentru lacurile sărate.   
Modalitati de plata / Payment modes:
Description
The ANA Hotel is seen by most guests as one of the most welcoming and modern hotels in Sibiu.
We are waiting for you at the entrance in Sibiu, close to the Sibiu International Airport, with 85 comfortable and attractive rooms, with high quality services and with an experience of 10 years, during which we are proud of having taken to perfection the highest standards of professionalism in our accommodation offer, restaurant, corporate events, weddings or other personal special occasions.
Being the closest accommodation facility to the Sibiu International Airport (under 2 minutes) and only a few minutes far by car from the city center, the three star hotel ANA is a modern and elegant one, which proudly offers services about its classification.
Just as well, close to the hotel is the Ocna Sibiului resort, famous for its saltwater facilities.
Kategorie
- Cluburi, Restaurante & Baruri / Clubs, Restaurants & Bars
- Hoteluri & Cazare / Hotels & Accomodation
Website
www.hotel-ana.ro
Phone numbers
+40269228875
Cashback
- Cazare / Accomodation:14% - Restaurant:2.5%
Address
Ana Oil S.r.l. Sos. Alba Iulia Nr. 120/Floor// 550052 Sibiu Romania
Phone numbers
+40269228875
Stores
Hotel Restaurant Ana*** - Sibiu: Sos. Alba Iulia Nr. 120
Prodajni objekat
Offices