Detalji partnera Grand Hotel Napoca ****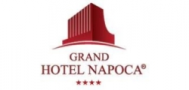 Smav-Exim S.r.l.
Description
Grand Hotel Napoca este cel mai mare hotel din centrul oraşului Cluj Napoca şi are cel mai mare centru de conferinţe din întreaga Transilvanie, capacitatea totală fiind de 4000 de locuri, din care 1600 de locuri în sala "Europa".
De asemenea, Hotelul Napoca dispune de cele mai mari săli de evenimente - Grand Ballroom, Atena Ballroom, Roma Ballroom, Atrium Ballroom, Forum Ballroom, Ambasador Ballroom - şi nu în ultimul rând camere dotate la standardul de 3 stele.
Grand Hotel Napoca is the largest hotel in town and provides the biggest Conference Center in Transilvania which can accomodate up to 4000 people in conferences from which 1600 people in one single conference room - Europa.
The largest banqueting venue in Transilvania. The Hotel also has 3*** star rated rooms.  
Modalitati de plata / Payment modes:
Cluj
Kategorie
- Cluburi, Restaurante & Baruri / Clubs, Restaurants & Bars
- Hoteluri & Cazare / Hotels & Accomodation
Website
www.hotelnapoca.ro
Phone numbers
+40264580715
Cashback
- Cazare / Accomodation:7.5% - Restaurant:5% - Diferenta cazare la plata cu cardul SCnet MasterCard:2.5% - Restaurant, achitat cu cardul Young:5% - Restaurant, achitat cu cardul Classic:5% - Restaurant, achitat cu cardul Gold:5%
Address
Smav-Exim S.r.l. Str. Octavian Goga Nr. 1-3/Floor// 3400 Cluj-Napoca Romania
Phone numbers
+40264580715
Stores
916004 - Cluj-Napoca: Str. Octavian Goga Nr. 1-3
Prodajni objekat
Offices