Detalji partnera Hotel Bistriţa***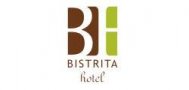 Bistrita S.A.
Description
Hotelul Bistrita***, situat in centrul istoric al orasului, cu o experienta de peste 20 de ani in industria ospitalitatii, pune la dispozitia clientilor 90 de locuri de cazare astfel: 26 camere twin, 18 camere duble si 1 apartament.
Principalul avantaj al hotelului este amplasarea centrala, care ofera acces facil, distante foarte mici (de mers pe jos) la principalele puncte de interes din oras.
Personalul hotelului sta la dispozitia clientilor pentru a organiza cat mai bine sederea acestora, oferind servicii de rezervare pentru diverse evenimente culturale, organizarea de excursii si vizite asistate de un ghid turistic.
Hotel Bistrita*** with its 20 years experience in the hospitality industry, situated in the historic center of the town, offers 90 hotel-beds distributed to 26 twin rooms, 18 double rooms and 1 apartment.
The prime advantage is the central location which offers convenient access (in walking distance) to all the major point of interest in the city.
The friendly staff is delighted to organize the clients stay offering also reservation assistance for various cultural events as well as excursions and visits assisted by a tourist guide.
Modalitati de plata / Payment modes:
Bistrita
Kategorie
- Cluburi, Restaurante & Baruri / Clubs, Restaurants & Bars
- Hoteluri & Cazare / Hotels & Accomodation
Website
www.hotel-bistrita.ro
Phone numbers
+40730660837
+40263231154
Cashback
- la cazare, luni - vineri / on room rates, monday - friday:5% - la cazare, sâmbătă si duminică / on room rates, saturday and sunday:7.5% - la restaurant / ar the restaurant:2.5% - cazare, achitat cu cardul Young:5% - cazare, achitat cu cardul Classic:5% - cazare, achitat cu cardul Gold:5%
Stores
916230 - Bistrita: P-ţa Petru Rareş Nr. 2
Prodajni objekat
Offices