Detalji partnera Pensiunea Restaurant Pizzerie Taormina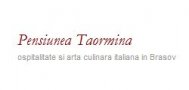 One Blow S.r.l.
Description
Lansând Taormina am încercat să aducem la alt nivel experienţele pe care le-am avut în restauraţie şi hotelarie pe alte meleaguri. Am dorit să puntem în slujba Brasovului, a braşovenilor dar şi a turiştilor atraşi de acest oraş toate competentele şi pasiunea pe care o avem.
Valorile în care credem sunt  calitate şi  autenticitate; le veţi regăsi în fiecare parte din Taormina. Vă invităm să descoperiţi cum promisiunile noastre se regăsesc în ceea ce facem aici zi de zi.
Veţi descoperi la noi o veritabilă experienta culinară italiană care va reieşi de la o banală pizza până la cel mai sofisticat fileto. În plus, vă veţi bucura de o ospitalitate mediteraneană chiar în centrul vechi al Brasovului.
Taormina offers the real Italian experience in Brasov old city center. With 12 spacious rooms with modern, Italian-style bathrooms, free Wi-fi and an à-la-carte restaurant managed by an Italian Chef, Taormina guest house enjoys a central location, a 15-minute walk from the Black Church. Free public parking is possible nearby.
All our rooms are big and bright and equiped with solid wooden furniture, a make-up desk with a mirror, a flat-screen TV and a small refrigerator.
Genuine typical Italian food and an amazing espresso can be enjoyed in the restaurant of the Taormina guest house. Breakfast is served every morning.
Modalitati de plata / Payment modes:
Braşov
Kategorie
- Cluburi, Restaurante & Baruri / Clubs, Restaurants & Bars
- Hoteluri & Cazare / Hotels & Accomodation
Website
www.taormina.ro
Phone numbers
+40268477114
+40751021409
Cashback
- la restaurant / at the restaurant:4% - la cazare / on room rates:7.5%
Stores
916223 - Brasov: Str. Matei Basarab Nr. 27
Prodajni objekat
Offices