Detalji partnera La Trăznea - Spălătorie Auto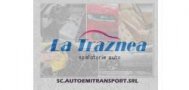 Auto Emi Transport S.r.l.
Description
Spălătoria Auto La Trăsnea prestează servicii de spălătorie auto, atât interior, cât şi exterior, complementar oferind şi servicii de curăţare a motorului, cosmetizare, spălat tapiţerie, covoare şi mochete, toate acestea de o calitate excepţională. 
Modalitati de plata / Payment modes:
Description
The carwash La Trasnea providing car wash services, both interior and exterior,complementary offering cleaning services of the engine, cosmetic, washing upholstery, carpets and rugs, all of exceptional quality.
Kategorie
- Auto & Moto / Car & Bike
Phone numbers
+40766638523
Cashback
- La prestări servicii:7.5%
Address
Auto Emi Transport S.r.l. Str. Marghiloman Nr. 117/Floor// 120107 Buzau Romania
Phone numbers
+40766638523
Stores
La Trăsnea - Spălătorie Auto - Buzau: Str. Marghiloman Nr. 117
Prodajni objekat
Offices