Detalji partnera Pig & Pepper Bistro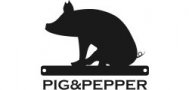 Pig&Pepper S.r.l.
Description
Pig & Pepper Bistro, situata in inima orasului Cluj-Napoca, este un restaurant modern care isi delecteaza oaspetii cu mancaruri preparate din ingrediente de sezon, folosind produse locale si din intreaga lume, imbinate cu o tehnica unica. 
Pig &∓ Pepper Bistro, incepand din 23 august 2012, va oferi oaspetilor sai o experienta culinara incomparabila intr-o atmosfera relaxanta si familiara.
Pig & Pepper Bistro is a modern restaurant in the heart of Cluj-Napoca offering seasonally inspired dishes utilizing local produce, augmented with global ingredients and technique. A casual dining experience for a new generation of diners is paired with a fun upbeat atmosphere and casual attentive service.
Pig & Pepper Bistro is the newest star on the town's culinary heaven and is open for business starting August 23rd, 2012.
Modalitati de plata / Payment modes:
Pig
Kategorie
- Cluburi, Restaurante & Baruri / Clubs, Restaurants & Bars
Website
www.pig-pepper.ro
Phone numbers
+40734880814
Cashback
- la mancare si bauturi / on food and drinks:5%
Address
Pig&Pepper S.r.l. Strada Ion Ratiu 2/Floor// 400014 Cluj-Napoca Romania
Phone numbers
+40734880814
Stores
916004 - Cluj-Napoca: Strada Ion Ratiu 2
Prodajni objekat
Offices